STAR project Team is happy to announce the international webinar :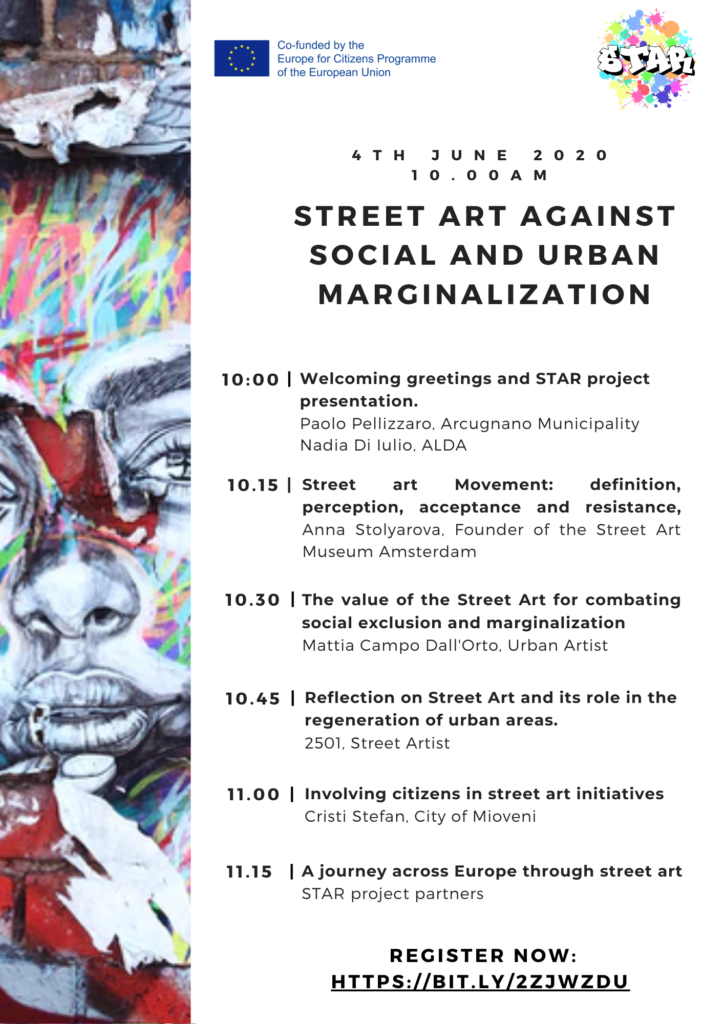 The webinar is organized within STreet ARt project, co-funded by Europe for Citizen Programme of the European Union, and aimed to build a network of European cities to promote the power of street art as a tool for increasing citizen participation, connecting people of different cultures, regenerating depressed and abandoned areas and reducing marginalisation.
It involves participants from 14 European countries, including: Albania, Bosnia and Herzegovina, Czech Republic, France, Italy, Kosovo, Latvia, Portugal, Poland, Romania, Serbia, Slovenia, Germany, The Netherlands.
Relevant speakers such as international street artist 2501, Anna Stolyarova founder of the Street Art Museum Amsterdam and many more, will guide us in the debate on the importance and impact of street art for regenerating depressed areas and promoting social inclusion. Finally, we will bring you across Europe by presenting street art works and initiatives locally implemented by STAR partners.
The webinar will bring together different stakeholders working in the field of art and culture, coming from both the public and private sector.
If you are interested in street art or art in general, you cannot miss this webinar!
The webinar will be in English and it will take place on Zoom platform.
Participation is free of charge, please register here: https://bit.ly/2ZjWzdU
The webinar will be recorded and shared through social media, project web page and through partners' networks.
See you in the webinar! For any further information, please contact Iva Walterova (walterova /at/ epma.cz)